Discover more from Adam Report
I write in "seasons" — varying my form, topic, and output goal every so often in an effort to find my writing niche. Follow along!
How The Celtics Landed Kevin Durant
July 2nd, 2016 at 11:43 AM The Hamptons, NY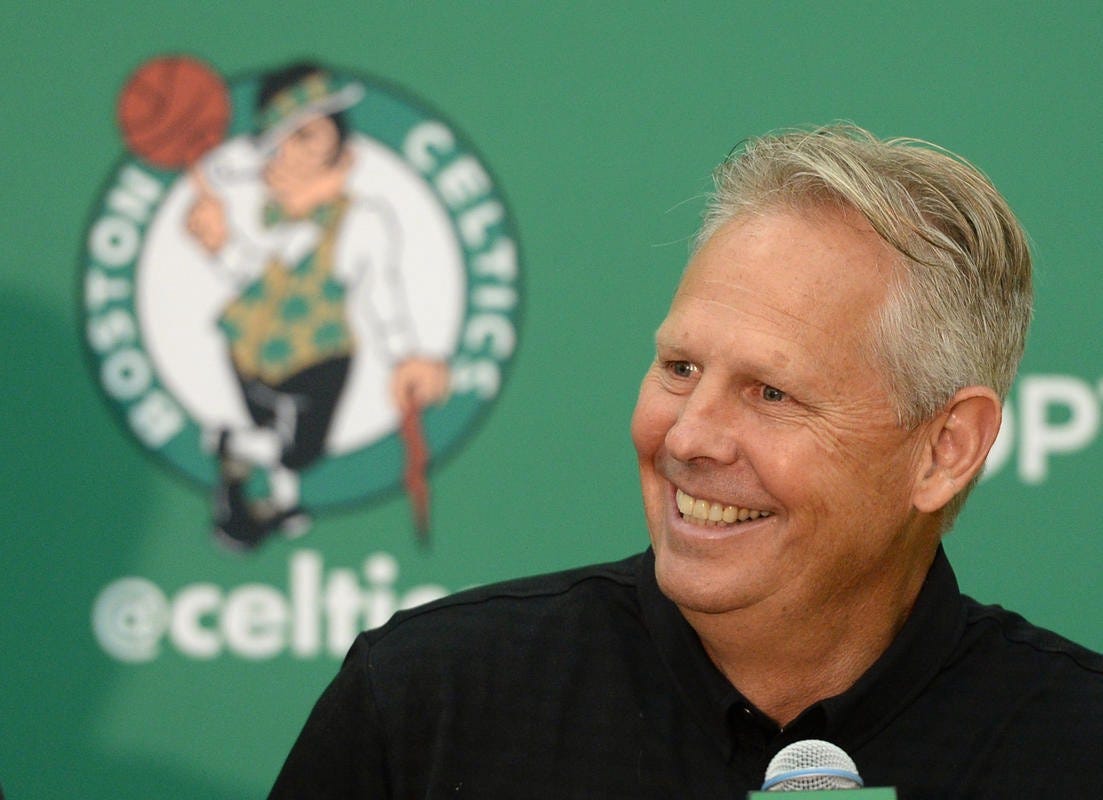 Image via Boston Herald
July 2nd, 2016 at 11:43 AM
The Hamptons, NY
Today is one of the biggest days of Danny Ainge's basketball life. He has a chance to convince Kevin Durant to join the Celtics, potentially making him the second seven-foot Kevin to save the franchise in a decade.
Kevin Durant is no ordinary player, so this was never going to be an ordinary pitch. Seated around the glass conference table with Danny are Wyc Grousbeck, Brad Stevens, Isaiah Thomas, Bill Simmons, Bill Belichick, and Mark Wahlberg. Everyone has a cup of Dunkin Donuts coffee in front of them, although nobody's really drinking it, because it's 86 degrees outside.
Danny glances at the clock. Durant is thirteen minutes late. That in itself is hardly a surprise. NBA players, athletes, and famous people in general, now that Danny thought about it, are often late. But the basketball world was already a little perplexed by the Celtics' inclusion on Durant's to-meet-with list, and if he was being really honest with himself, it wouldn't surprise Danny if it was part of an elaborate hoax orchestrated by one of his enemies. Probably Pat Riley.
DANNY AINGE: Alright everyone. I'd just like to say again how much I appreciate all of you being here-
MARK WAHLBERG: Where's Durant?
DANNY AINGE: I'm sure he's on his way, Mark.
MARK WAHLBERG: He better show. We need to bring Banner 18 back to Boston.
Danny smiles and nodded good-naturedly. Privately, though, he took a moment to think about how much he hated Mark Wahlberg. He shouldn't even be here. It was Wyc's idea, having a famous fan in the room. Shouldn't he be off shooting some okay movie? And also, what did Wahlberg mean, bring Banner 18 "back" to Boston? This wasn't the Stanley Cup. God, what an idiot he was.
A moment later, Kevin Durant walks into the room. No, that's not the right word. He glided. He breezily shakes hands with everyone, lingering just long enough. He exchanges greetings most spiritedly with Isaiah Thomas. Everyone settles into their chairs. They're the spinny kind.
KEVIN DURANT: Sorry I'm late fellas. My mom wouldn't get off the phone.
WYC GROUSBECK: Well she is "the real MVP."
There's an awkward silence. Durant breaks into a smile.
KEVIN DURANT: True.
Everyone laughs politely but Belichick.
DANNY AINGE: Kevin, we've never made any secret of our interest in you. Since you were a freshman at Texas — how's your grandmother by the way? — we've always known you were special. We strongly believe that Boston is the best place for you to take your next step, and we're excited to tell you why.
Durant nods, but his face betrays nothing. If Danny had to rate his confidence from a 1–10, he'd be at a 5.0 right now.
DANNY AINGE: We also know how busy you are, so let's get down to-
BILL SIMMONS: Danny, if you don't mind, I just have to say something, because I feel like it's sort of the elephant in the room: does this whole thing remind anyone else of The Bachelorette?
Isaiah Thomas shakes his head a little and looks at the ceiling.
BILL SIMMONS: The Celts are one of those classic sneak-up-on-you contestants. They don't have a six pack, they don't have the whitest teeth, they're not a millionaire, but by the end of the season, it's just obvious. There's undeniable chemistry. You know they're the right guy.
DANNY AINGE: I'm not sure that's an analogy that'll resonate in this room, Bill.
BILL SIMMONS: You know what, I have good ideas. Really good ideas. And if they're going to be wasted in there, there are other things I could be doing. I don't need this.
Simmons storms out of the room. He tries to slam the door on his way out, but it's not that loud. Nobody is fazed. Belichick is the first to take a sip of coffee.
DANNY AINGE: Kevin, I'll put it out there right now. We believe we could give you your pick of Hassan Whiteside, Dwight Howard, or Al Horford to anchor our defense, should you decide you want to be in Boston.
KEVIN DURANT: Man, I love Horford, but isn't he leaning towards the Lakers?
Wyc Grousbeck smiles and half-raises his hand.
WYC GROUSBECK: That shouldn't be an issue KD. Is it cool if I call you KD? We hired a private firm to send 75,000 bots pretending to be Lakers fans to spam his Instagram account and tell him how much he sucks.
While it wasn't the sort of story that he would want on the front page of the Globe, Danny had signed off on this one. It was risky, as Durant is a classy guy, buy Danny's finely-tuned instincts told him that Durant would respect the competitive spirit behind the 21st-century Auerbachian move.
KEVIN DURANT: Alright, alright.
Phew, Danny thinks to himself. He's cool with it.
DANNY AINGE: In addition to having enough cap space to fit two max contracts, we have a promising, cost-controlled young core, and a litany of future draft picks.
WYC GROUSBECK: Tell him about the thing.
DANNY AINGE: The thing?
WYC GROUSBECK: You know. The thing.
Danny did know. He forced a smile at Durant, trying to convey that what he was about to say wasn't necessarily in his taste, but that he was being pressured to discuss it.
DANNY AINGE: Ah. Yes. Wyc had a big custom display-
WYC GROUSBECK: 70 inches.
DANNY AINGE: 70 inches, installed on the wall in his office, that shows the state of the Nets roster, injuries they've suffered, negative headlines about the team, how many points Vegas has them losing by on any given night, and their projected record, all updated in real-time.
WYC GROUSBECK: When things aren't going so great in my life, which isn't often, but still, sometimes, I pour myself a scotch and just stare at it.
Wyc smiles. Jesus. It was time for Danny to link this thing back to Durant.
DANNY AINGE: Because as you might know, we control Brooklyn's first round draft picks in 2017 and 2018. Not that you'd want to play with some 19 year old-
Danny shifts to cover up the Jaylen Brown profile in front of him.
DANNY AINGE: -but they're excellent trade chips. Now why don't I let Brad tell you a little about how our roster would fit you?
The room turns to Brad Stevens.
BRAD STEVENS: Well, as you know, we have a strong backcourt, especially defensively, that we think matches up well with what some of the contenders around the league are doing. We've got a motion-based offense that would fit you like a glove. The scoring firepower that you would bring…
Stevens's lip begins to quiver. The room gets really quiet.
BRAD STEVENS: We…we could just really use some offense. I don't know. A scorer like you… Jae Crowder wasn't put on this earth to be a second option, he's supposed to be a hustle guy, a 3-and — D at best-
Stevens voice cracks, and he breaks down crying — deep, soul-wrenching tears. Belichick's mouth twists into a hint of a smile. The room waits for Stevens to compose himself. He does, and then proceeds to break down in perfect detail Boston's offensive and defensive schemes and overall philosophy. At the end of it, fortunately, Durant looks more impressed than confused.
DANNY AINGE: Kevin, we've built a championship team here in Boston, and we're on our way to building our next one. As you know, being a Celtic is unlike any other experience in the NBA, and the history you feel in the Garden, under those banners, is unique to Boston.
Danny turns to Belichick.
DANNY AINGE: Coach, could you tell Kevin a little about what it's like to win in Boston?
Belichick stares at Ainge.
DANNY AINGE: We know you've got a lot of experience with that. Winning. In Boston.
There's a long pause.
BILL BELICHICK: [mumbling] It's good.
Danny tries his best to give Durant a "Can you believe you're listening to a living legend?" look, but he fails to sell it.
KEVIN DURANT: Basketball — winning championships — is the big thing for me obviously, but I don't know much about Boston. What about the city?
MARK WAHLBERG: What do you mean "what about the city"?
DANNY AINGE: I think what Kevin was trying to ask-
MARK WAHLBERG: No I know what he was trying to ask. And if he thinks he can just sit here and disrespect the city of Boston, like I'm not gonna do something about it-
KEVIN DURANT: What-
MARK WAHLBERG: This isn't Oklahoma City. This isn't LA. This isn't Miami. This is a real f*****g sports town. Do you really wanna go to Golden State and be Steph Curry's Scottie Pippen? Or do you wanna be immortalized in a place that holds their sports heroes up as gods?
Danny glances at Durant's expression to see if this last bit of coherence from Wahlberg may have reached him. Nope, he still looks freaked out. Isaiah motions to Durant and the two rise.
ISAIAH THOMAS: We're gonna go for a drive.
DANNY AINGE: Should I come?
ISAIAH THOMAS: No.
Mark Wahlberg is beside himself, repeatedly shouting "HOW DO YOU WANT TO BE REMEMBERED?" Isaiah walks out of the room with Durant.
34 HOURS LATER:
It's been a long couple days for Danny, but he's in a good mood — the Celtics signed Al Horford earlier in the day, and he's unwinding by watching tape of a 7'2 17-year-old Siberian. The job wasn't done yet, but it was getting closer. The phone in Danny's office rings, startling him.
KEVIN DURANT: Hey man. I wanted to let you know that it was the craziest pitch I've ever been in, but something felt right. I could feel the passion, and Isaiah really brought it home. Me and my family, we talked a lot, and we decided to go with y'all. I'm gonna wear that Celtics green. A couple questions…
Durant's voice fades away as Danny closes his eyes in happiness. Was it better to be lucky or good? It didn't matter, because Danny was both.