Ranking 30 Options: Where Should LeBron Go?
It's The Decision…again.
It's The Decision…again.
After Sunday's loss to the Spurs (I'm still smiling) the Heat will be forced to re-tool this summer. James, Wade, and Bosh can all opt out. For the first time four years, there's a lot of uncertainty about who will open the season on the Heat's roster.
We thought this run would go on forever, but it may already be over. I admit that I find it hilarious that LeBron basically hand-picked this roster and yet the predominant national NBA conversation is, "where can LeBron go so he can get some help?"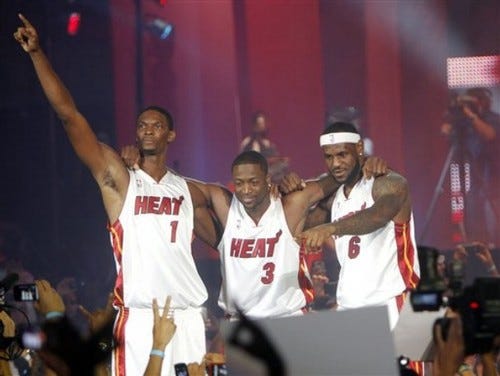 In fairness, that question has some merit, which would surprise the 2010 versions of ourselves. At the end of Game 1 when LeBron left with cramps, Bosh and Wade completely shrunk in the moment. These are supposedly two all-pro caliber players, and they disappeared when it was necessary for them to step up. I imagine that LeBron wants to start doing a little less so he can be fresh deep into the playoffs every year and avoid burning out prematurely. I'm not sure he'll achieve that in Miami.
Check out these stats from the last four Finals that I dropped into a spreadsheet: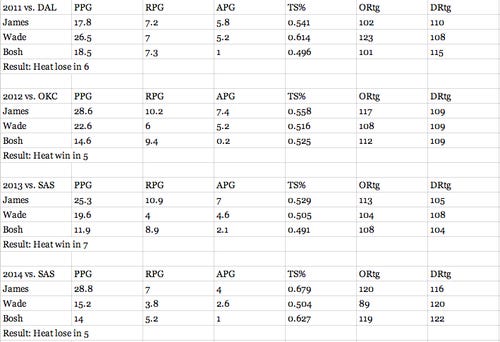 The Finals are small sample sizes — but over four years, they begin to tell a story. LeBron is the anchor. Wade is declining. Bosh is inconsistent. The numbers echo what our eyes see.
James is easily the best player in the NBA and would make just about any team in the league an instant contender. Just pour and add water…and by water I mean shooters and a couple rim protectors.
He's at a pivotal moment in his career, though: he's coming off a modestly successful run with Miami (all things considered, I'd probably give them a B- if this is it) and could be thinking about the third act of his career. He's not close to being done, but he'll turn 30 next season, an important milestone that reminds NBA players of their own mortality.
With that in mind, I started thinking about what teams LeBron should seriously consider this offseason. This isn't a prediction list — although I'll make a prediction at the end of the post — it's where he should go. I took into account the teams' front office situations (how much flexibility and how many assets they have), how LeBron fits with their current roster, nightlife (also known as The JR Smith Rating), reputation of the organization, and how it would influence his image, an aspect that shouldn't be forgotten.
Anyway, here it is — Simmons-style:
These teams have a better chance at luring Michael Jordan out of retirement…especially Charlotte:
30. Sacramento (The only thing they have going for them is the "Kings" name)
29. Utah
28. Milwaukee
27. Minnesota
26. Detroit
25. Charlotte
24. Atlanta (I can't believe I ranked Atlanta ahead of six teams)
23. Denver
22. Washington
21. Toronto
It'd take a miracle, but crazier things have happened:
20. Brooklyn (I feel like the "Brooklyn! Big market! Free agents will come here!" thing has faded quite a bit over the last 18 months)
19. New Orleans (LeBron will never be a Pelican, but can you imagine the defense? And playing out his career with Anthony Davis?)
18. Dallas (The Mavericks: linked to every marquee free agent since Cuban took over)
17. Philadelphia (Their future draft picks are more popular than their current players)
16. Orlando (It'd be a short move — I don't know if that makes the Magic more or less likely)
15. Boston (Won't happen for a number of reasons, but well-regarded organization, greatest NBA franchise, cap flexibility, assets to use)
14. Phoenix (Young talent locked in, tons of assets, world-class medical staff)
These teams are interesting, but ultimately, he shouldn't seriously consider either of them:
13. Indiana (The Pacers were a mess during the last few months of the season…but Paul George would be a pretty awesome Pippen for LeBron. They have a well-respected ownership group and front office. Bird would have to get creative and create some cap space, probably by moving Hibbert. Not much stability here at the moment, though.)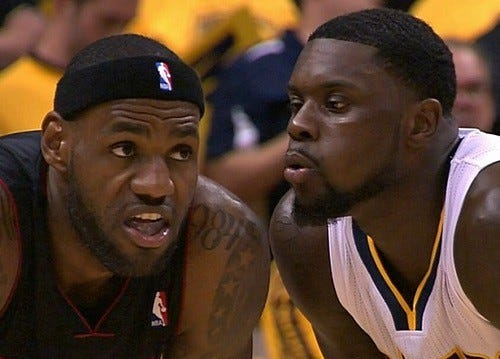 12. Houston (This option bores me to tears, but it's not tough to see the appeal. Harden is a legit #2, Howard is the post presence LeBron has never had, and Parsons can shoot lights out. They have a good front office and play in a vibrant city. Still, something about Houston as an option for LeBron feels hollow. I tend to think Harden is overrated — maybe because he refuses to defend — and Howard is a clown, as Kevin Garnett once so aptly put it. I'd be bummed out to see him go to Houston, but it won't surprise me to hear them talked about as a second-tier option.)
He'd make any of these awesome Western Conference teams that don't have much cap flexibility favorites for 2014-2015:
11. Memphis (They'd be the greatest defensive team of all time with LeBron, although they'd need more depth. It'd be suffocating for teams to face a Conley/Allen/LeBron/Randolph/Gasol unit. They'd have to dump Prince and Lee to create cap space. Another downside to becoming a Grizzly: their weirdo owner.)
10. Golden State (The thought of LeBron drawing attention and kicking it out to Thompson and Curry makes me dizzy. I could see LeBron playing PF in Oakland, with the Warriors moving Lee to create cap space and to pick up a bench piece and a draft pick. Bogut's health is worrisome, but he wouldn't be hard to move.)
9. Portland (This would involve one of Matthews or Batum being moved for bench depth, but from a roster standpoint, it'd be pretty awesome playing with two younger players capable of shouldering the load in Aldridge and Lillard.)
Intriguing but imperfect options that LeBron should take a long look at:
8. Oklahoma City (LeBron and Durant. Wow. Keeping in mind OKC's reluctance to pay the luxury tax, what if they dealt Westbrook and Perkins to Philadelphia for the #3 — if Wiggins drops — and Thaddeus Young? Or to the Kings for #8 and Isiah Thomas, and a future pick? Jackson/Sefolosha/Durant/James/Ibaka with Lamb/Wiggins/Young/Adams off the bench? That'd be a historically deep team, poised to contend now and for the next six or seven years. The downside to becoming a Thunder is ownership's cheapness and because, well, it's Oklahoma City. Still, Durant seems to like it there, and from a talent perspective, there'd be no better landing spot. He'd get killed from a PR perspective, though. He ditched Cleveland and now he's going to bail on his best friend in Miami because he's no longer good enough, in order to jump ship to the second best player in the league's franchise? It wouldn't play well at all.)
7. Chicago (Noah and Rose are great core pieces — if Rose can recover, which I'm not sure he can — and Butler and Gibson are nice complementary young vets. Thibodeau is one of the best coaches in the NBA. Chicago is a big market. This would push the Bulls over the top. They'd have to move or amnesty Boozer, but it's doable. Still, Chicago is synonymous with Michael Jordan. There's literally a statue of him outside of the arena. He could never be the Bull that Jordan was, which would doom his tenure there before it began. LeBron claims that he doesn't care what critics say, and if that's so, he'll consider Chicago because they're in the weak Eastern Conference, their roster fits, and they have a top tier coach. We'll see.)
6. New York (I can't believe I'm putting New York here…but I think the Knicks are a classic high-risk, high-reward option. LeBron goes to the center of the basketball universe to take a down-on-its-luck but historic franchise to the promised land. He would have to take the MLE for a year — and the union would throw a fit, as unions are prone to do — but winning there would mean more than winning anywhere else. New York is a year away from cap flexibility, and they wouldn't be the favorite this year. If LeBron committed to the Knicks and won — he'd become the King of New York, the media capital of the world. Another point for the Knicks is Phil Jackson (can you imagine how mad that'd make Riley?) but I have to subtract a point for owner James Dolan. We'll call it a wash. He also would get to play with his old friend Carmelo Anthony, and would probably enjoy not playing for "the favorite" for a year. I think it'd be a refreshing change of pace for him.)
At least he'll be familiar with these teams' rosters:
5. San Antonio (Can you imagine? I can just picture the cliche headlines in newspapers, er, blog posts everywhere: "IF YOU CAN'T BEAT THEM, JOIN THEM." It'd be ugly. What we witnessed in the Finals, though, was just about basketball perfection — and I'm sure LeBron appreciated it, even if he was on the receiving end. San Antonio has it all: the best front office and coach in the league, a winning pedigree, cap flexibility, some young talent — particularly Kawhi Leonard — and a commitment to playing beautiful offensive and defensive basketball. For a basketball genius like LeBron James, you would think it'd have to be a tantalizing, if not unrealistic destination. The spin on this could be more like LeBron taking the reigns from Duncan as opposed to jumping on someone's coattails — like Durant — to win.)
4. Miami
I don't think Wade will opt out — or take a big paycut — which could fatally cripple them in two of LeBron's prime years. Still, Pat Riley has shown that he can build winners. People say LeBron is a loyal guy, which is funny to me on a couple levels, but I get it. The Heat like to think of themselves as a "family" so I suppose it could be tough for LeBron to leave a situation like that. I imagine he loves living in South Beach. He likes — and knows — the organization from the top to bottom. The Heat are the best in every factor for LeBron but legacy (his could be greater if he goes elsewhere) and roster (they can't offer him the best teammates.)
These teams should take notes and get their pitches ready:
3. Los Angeles Lakers
Being a Laker has always sort of been LeBron's destiny. His game seems like it was meant for Hollywood, and his off-court aspirations match up perfectly with the options available in LA. There are so many greats that went to LA to win, and if the country woke up one day and heard LeBron was a Laker, the reaction would basically be, "Yeah, that figures." Despite the mess that the franchise is in right now — Jim Buss's ineptitude, Kobe's giant contract, getting nothing for Dwight Howard — I believe that they could put a winner around LeBron fairly quickly. A Kobe-LeBron Laker team would be a wild commercial success. I'm pretty sure they'd be the first team to play all 82 of their games on national TV. They also theoretically have space to fit in two stars after Bryant, if they each took big but not insane pay cuts — but wouldn't have much flexibility to fill out the rest of the roster. LA also has the #7 pick to use on a guy who can play right away. There is a chance, though, that neither Kobe or LeBron would make it out of this relationship alive. Actually, Kobe would. Kobe will always survive.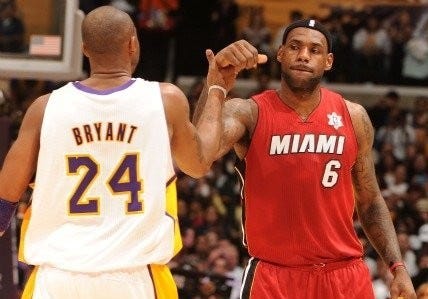 2. Los Angeles Clippers
LeBron was vocal about the Sterling situation and drew praise from around the league. He likes Doc Rivers. It's Los Angeles. The franchise is going to be rebranded, which means that there'll be tons of commercial opportunities. They have no cap space, and would have to move DeAndre Jordan and another contract to make room for James. A Paul-James-Griffin trio would be ferocious. Surround that trio with shooting and a shotblocker or two and there's no reason why they couldn't win for the next three or four years. The Clippers are in LA, coached by Doc Rivers, and led by Chris Paul. Check, check, check. Their roster would be a little talent-light if they head to deal Griffin to get James, though…leaving him in the same spot that he's in with Miami.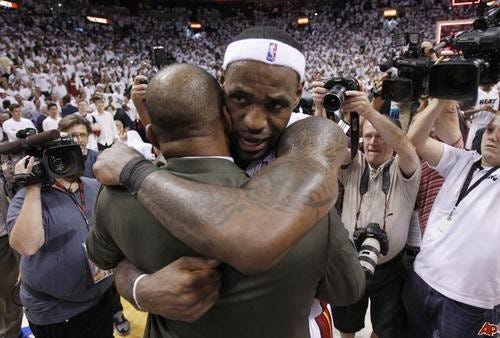 1. Cleveland Cavaliers
The one thing that is holding this back from being an absolute slam dunk is that its the Cavaliers. They're one of the worst-run organizations in pro sports. Gilbert still wrote the Comic Sans email. Still, it's impossible to ignore the assets they have: a franchise PG in Irving, the #1 pick in an excellent draft, cap space, and a handful of young vets who can contribute or be easily moved. It'd do wonders for his image. I think the country would be much more likely to cheer for this guy if he went back to Cleveland to do what he couldn't do the first time. If LeBron wants it, he could go home, play with Kyrie Irving and Kevin Love (that deal is just waiting to be made, if Cleveland wants it), get the country back on his side, and stay in the pathetic Eastern Conference. It makes sense in almost every way.
So, that's where I think he should go. Where do I think he will go? 75% chance he returns to Miami, 20% chance he goes to Cleveland, and a 5% chance he goes somewhere else.
Wherever he ends up, I hope its on a team that maximizes his talents. Again — and I know I've said this before — I'm not a fan of LeBron James…but he is a basketball genius. Who knows how long it'll be before we see another player as transcendent as him. I also hope that its on a roster that maximizes his teammates' talents, too — I don't find the LeBron Show fun to watch. Teams like the Spurs are fun to watch. They're greater than the sum of their parts. Chris Bosh, in particular, has been minimized on the Heat, to the point that I think his skills may have atrophied a bit, and he may struggle being more than a third option elsewhere.
The 2014 NBA offseason will be wild. LeBron's choice, in many ways, will shape the league for years to come. I hope he makes a good one — for him, and for us.