Brilliant Content Marketing…From 1995
Who knew so many people could care about a glass cleaner?
I was going through some old files the other day and stumbled upon something my dad did that I wanted to share here. Quick back story: my grandfather (my dad's father-in-law) ran a family company, Lawrence Plate Glass, that had been around since 1918. They had a product called ClearVue that they used in-house to clean the glass and sell in the shop. My grandfather hired my dad, who soon took notice of ClearVue, a glass cleaner that had a small but passionate fan base (they literally got fan mail from customers.) He spun ClearVue off into its own company, and the product was soon on the shelves in Walmart, K-Mart, Target, etc. (If you want to read more about ClearVue's story, here's a piece that Inc. did on the company years ago.)
Anyway, my dad knew how tough it'd be to compete with the Windexes of the world, so he had to come up with some interesting, offbeat ideas to win marketshare. People generally grab the same glass cleaner over and over, so earning loyalty was important. One thing he did was publish "The ClearVue Sun," a short, (mostly satirical) quarterly newsletter about the business and product. Now, if ClearVue were around today, it'd be incredibly easy and free to digitally publish something like this. Back then, though, you had to hire a printer, organize the addresses, mail out the newsletters, etc. They had thousands of subscribers. Seriously, think about that — how weird is it that this glass cleaner product/company inspired enough of a positive feeling within people that they subscribed to a mailed newsletter? It kind of blows my mind.
I've included a few photos of one edition. It's pretty funny. (I've written more below, too…)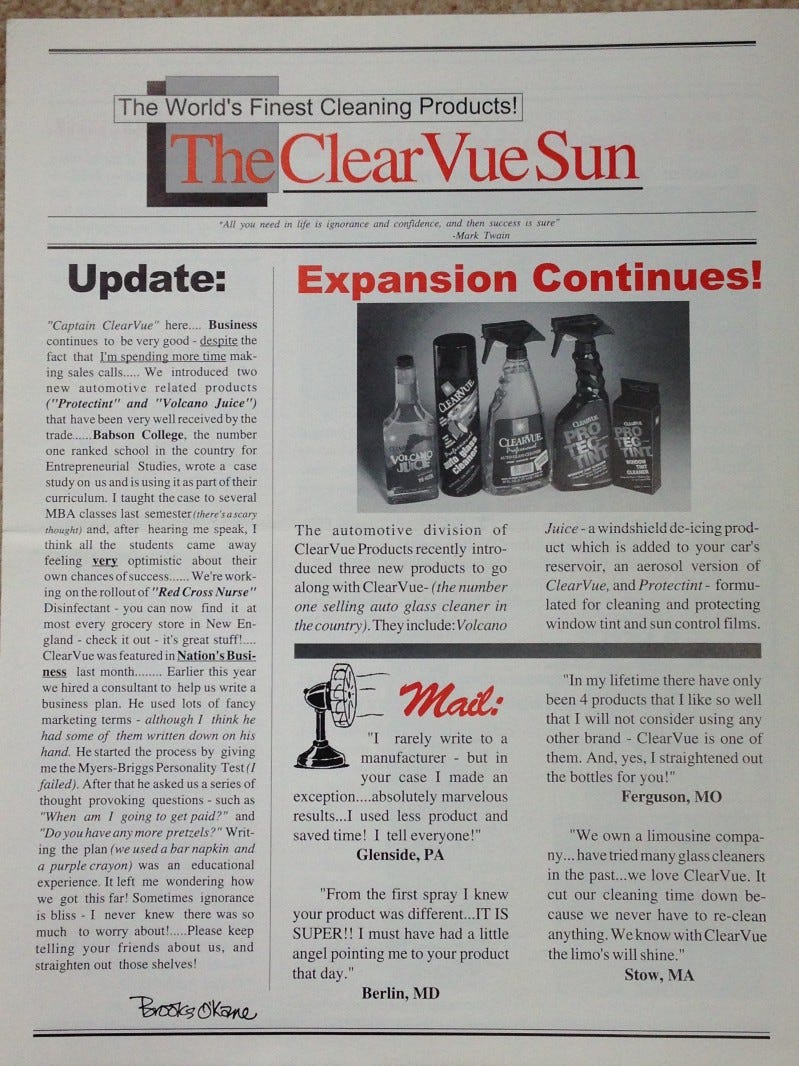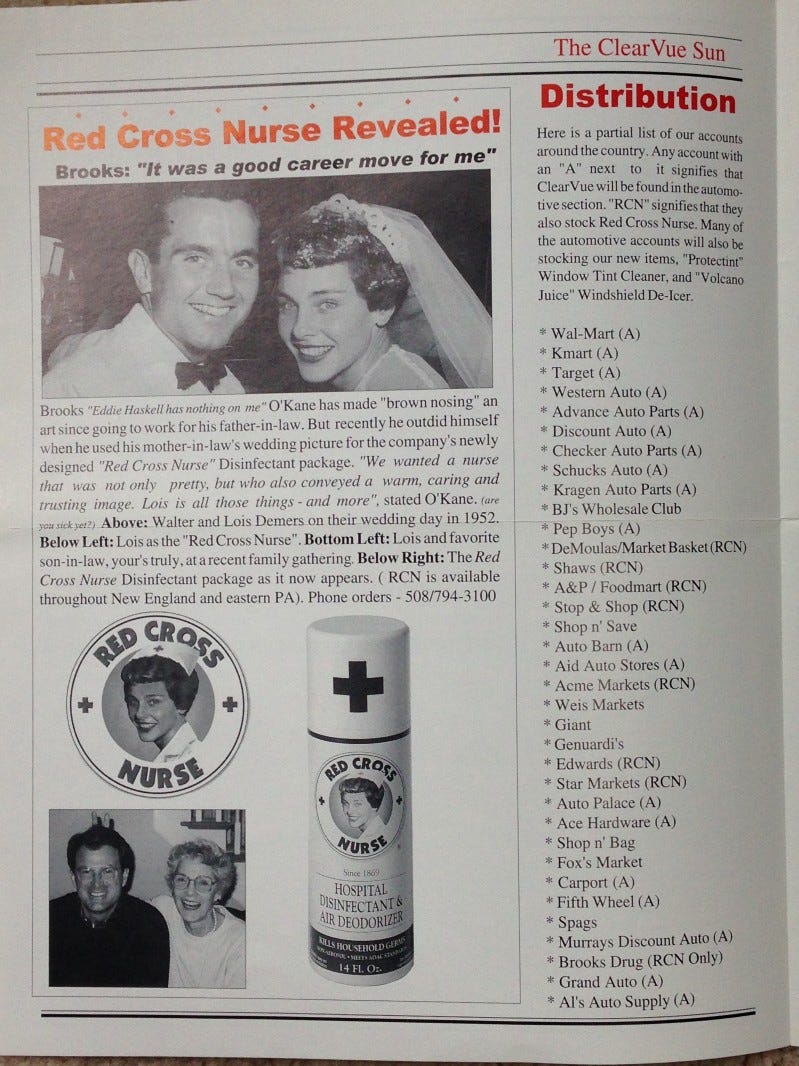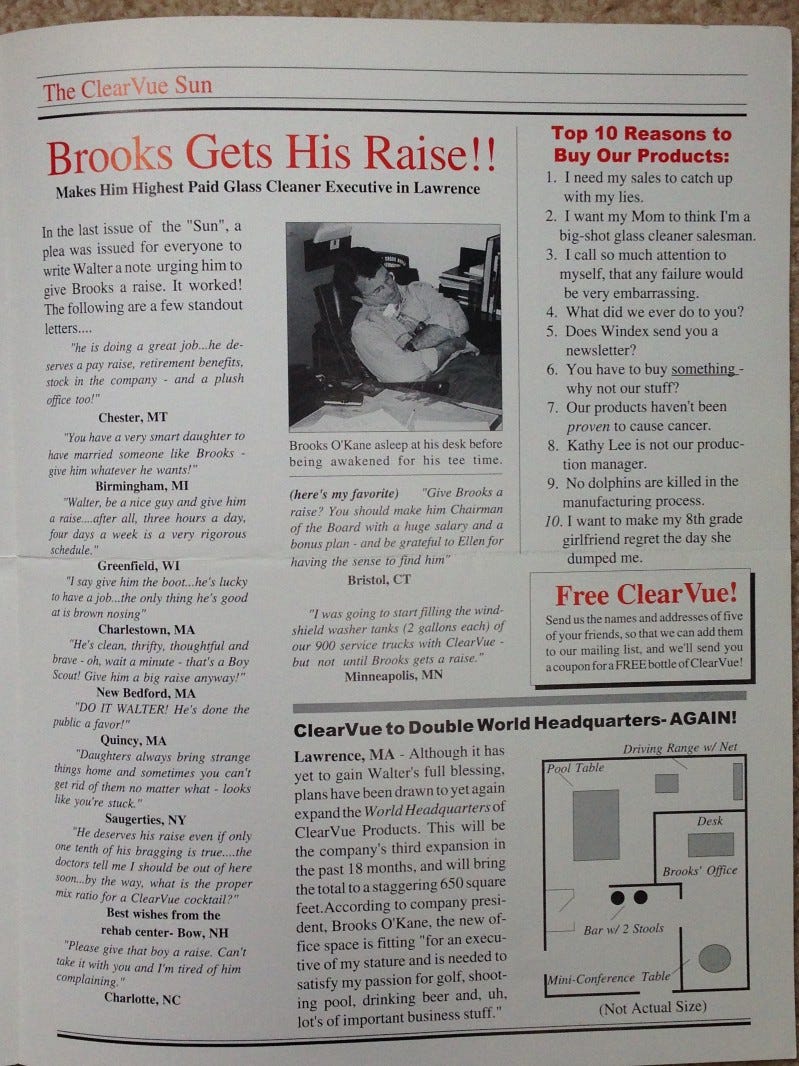 In 1995, this newsletter really stood out. As far as I know, there were no other glass cleaners — in fact, there were probably no other household products — doing anything like this. Today, every company has a blog. "The ClearVue Sun" is proof that no matter what sort of product you sell (seriously…glass cleaner!) there are ways to tell stories that your customers will love and share.
Thanks for reading! If you liked this post, please follow me on Twitter @adamokane. I blog at http://adamokane.com.